Started in 2010 and run by Dwight and Liz Pavlovic, Crash Symbols is a psychedelic tape label, though it branches out to include many other genres. They were kind enough to send me a batch of their 5 newest tapes and here they are in order of catalogue number.
Touched by an Angle Vol. 2  
More than a compilation, this cassette is equal parts label sampler and eclectic mixtape, featuring over 90 minutes of weird but friendly jams. Throughout both sides you get a nice overview of what Crash Symbols is all about – hissing drum machines, clanging guitars, bubbling synthesizers, energetic bass guitar, drifting soft pads, all with echo and fuzz used judiciously. The label's overall sound is emblematic of the home taper ethos,  giving a second chance to thrift store equipment and having the enthusiasm to craft new paths with it. From artist to artist you hear No Wave, Outsider Pop, Vaporwave, Psychedelic, Synthwave, Hip Hop, Plunderphonics, and whatever genre you can dream of. The 26 artists showcased here are not riding waves, they have an electricity that is infectious and an enthusiasm that can't be faked or manufactured.
https://crashsymbols.bandcamp.com/album/touched-by-an-angle-2-2 
Marta SmiLga-Lunar Maria Vol. 1
Marta SmiLga is the project of Līga Smirnova, a composer from Riga, Latvia. In her own words this tape "is a cycle of experimental ambient pieces focused on the dark lunar plains that early astronomers mistook for seas. Vol. 1 is focused on Mare Ingenii, Mare Frigoris, Mare Nubium and Mare Orientale." 
When hitting play, the listener finds themselves sailing along the sparkling sea of space just as the artwork would suggest. Her use of modular synth harkens back to the early space music days and wouldn't sound out of place on an old dusty LP found hidden in a record shop. The ambient sounds are purposeful, in no hurry to change but not in the least boring – they drift along as though they have been around for eons. In addition to bleeps and other mechanical sounds, the synths drone like the slow heavy turn of orbiting moons. As the tape rolls, percolative rhythms of mysterious swamps are heard and may very well contain new life and sounds. With the use of custom racks of synth modules and choice effects, Līga scores an exploration of worlds beyond our own. 
https://crashsymbols.bandcamp.com/album/lunar-maria-vol-1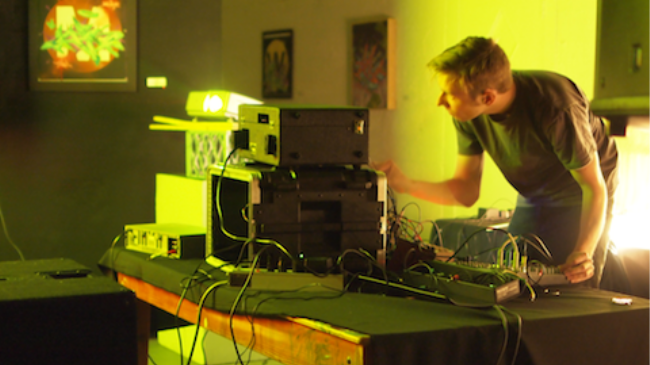 Fletcher Pratt – Dub Sessions Vol 4
Canadian born composer Fletcher Pratt is an accomplished artist who holds a MFA in Electronic Music and Recording Media. In addition to his numerous releases he is the label owner of Midori Records.
This cassette's title is extremely fitting – from the opening seconds you are transported inside long nights drenched in echo and reverb. Clicking drum kits, keyboards doing laid back stabs, borrowed sounds, cool twangy guitar, droning chants, and mournful organs are among the many watery sounds. Other times you find yourself wandering the late night city streets of anywhere or taking in the horns at a late night jazz club meditation. Not merely weird sounds or remixes, there is a groove woven in all this mind-spreading, and that vibe lies at the heart of a great dub piece.
https://crashsymbols.bandcamp.com/album/dub-sessions-vol-4 
회사AUTO –  Informatique Métaphysique
Seattle is home to 회사AUTO, who is a producer and vaporwave stalwart. Crash Symbol has this to say about 회사AUTO's new offering: "Informatique Métaphysique is Seattle-based 회사AUTO's first album following a long hiatus and a varied string of digital and tape releases on labels like Plastic Response, Dream Catalogue, and Ailanthus. Never easy to peg and still profoundly slipstream, Informatique Métaphysique also features a slew of collaborators contributing their own mutations to an already varied listen."
Indeed this tiny reel of music is the work of many collaborators and was built up over time, but sounds incredibly whole and complete. Early '90s home computers, dial up internet, and end-of-game credits music are used as reference points. Ethereal melodies rise while electronic drums keep the beat moving. It would be fitting to listen to this on long drives, an explosive sunset filled with neon lights flickering to the pulsing bass lines. Over the course of one hour 회사AUTO creates the Virtual Reality headset/palm tree future we were always promised via straight to video movies, but never got.
https://crashsymbols.bandcamp.com/album/informatique-m-taphysique
Sea Moss + The Social Stomach – Ugh
Both hailing from Portland, Oregon, these two like-minded groups share a tape of experimental music that is equally catchy as it is challenging. 
Sea Moss is Noa Ver (Mulva Myasis) and Zach D'Agostino (Don Gero). They describe themselves as "a sonic assault of homemade electronics, blasting drum beats and screeching vocals. Sea Moss experiments in composed improvisations, lopsided rhythms, and single serving songs. DIY-electro-noise-punk." The Social Stomach is Diana Oropeza and TJ Thompson, and as a duo they "explore the unique intersection of rhythm and the human voice." They formed in 2016 and have described themselves as "nuclear pop."
Side A is the turf of Sea Moss, and they deliver a speaker melting live set. If you think of Silver Apples with early '90s K Records sensibilities, you get the kind of jams they are firing at you. Utilizing DIY electronics, they mimic an Atari on the fritz, augmented with frantic drums and percussion pounding time signatures in your brain. Distorted vocalizations blend with circuit bent oscillations, that together offering memorable noise hooks.
Side B is where The Social Stomach take over with bass heavy rhythms. Poetic Spanish and English lyrics speak truth to power. Guitars are more textural and allow the electronic lines to take hold with jazz-style drumming keeping it all together. The music is both poppy and devastating, and feels like a protest to bring forth a better life for the mistreated and underrepresented.  Portland has an underground that is still full of life and determined to be heard, as evident by this release.
https://crashsymbols.bandcamp.com/album/ugh 
– Jeff Brown