Every now and then we dig up Ruixes past. Here are a handful of reviews of recordings by bands from our home base of Dubuque, Iowa, dug up from one of our prints zines published in 2015.
 All these artists are still active – check 'em out.
Young Indian – Handsome 
Iowa has been getting a fair amount of positive press lately from the type of folks who think we are known for our potatoes. Whether our progressive stance on marriage equality, or the stream of ace pop bands trickling out of the state's midsection, Iowa is beginning to be recognized as a progressive beacon in the country's midsection. Removed not only from coastal hipster centers, but from the rest of Iowa, Dubuque's musicians and artists have been quietly plugging away at their craft with working-class humility and sardonic humour.
One of the newer local bands is Young Indian. Comprised of four dudes who are in at least as many other bands – Legal Fingers, Civil Soldier, Split Pricks, and I Like You Go Home come to mind off the top of my head – Young Indian could be considered the members' post-rock project. Taking cues from genre darlings Explosions in the Sky and adding the heavier textures of Pelican, their sound also references the again-popular shoegaze vibe. 
Though these touchstones are obvious to the ear, Young Indian generally avoids genre tropes and transcends their influences with strong songwriting. The musical ideas are fully developed – one of my main complaints about "post-rock" is the multitude of bands who play two chords back and forth with a ton of delay and "dramatic" swells and call it a song – and the performances are strong. The battery of Jon Stelken and Micah Schreiber is particularly solid, and the basslines are the right mix of melodic and rhythmic. 
The tunes on Young Indian's debut EP, Handsome, are instrumental – though the ridiculous song titles supply plenty of literary grit – and do not suffer for it. The guitars provide memorable melodies, and the band's sense of texture and space fleshes out the arrangements nicely. "I Can't Breathe" begins with a bassline reminiscent of early Maps and Atlases, and explores riffier territory than much of the recording. "I'm Ready to Be Gay" reminds me a bit of something I'd've picked up from Polyvinyl Records in the late '90s, wistful layers of arpeggiated guitars and bouncing, syncopated drums. On "Nope, We're Back to Hate", the band skillfully nails a slow build to a big payoff. 
Handsome is a consistently rewarding listen, and an impressive first effort. You can grab a physical copy of the EP direct from the band, or stream/download it from their Bandcamp page.
http://youngindian.bandcamp.com
– Bob Bucko
Dredge – Fossils & Ghosts 
I'm sort of an old school metalhead from way back. I'd say most people know this about me, if they know me at all. And that goes for almost all types of metal – thrash, sludge, black, doom, death and, yes, fuckin' hair metal. That being said, these days I don't find myself listening to much metal anymore. I just really have to be in a certain mood for most of it and, for better or worse, I don't find myself in that mood much lately. However, I can listen to some metal records, like Megadeth's Rust in Peace or Godflesh's Streetcleaner, to name a couple, whenever, because they're that goddamn good. The more I listen to Fossils & Ghosts, the latest full-length from Dubuque's own Dredge, the more I think it falls into this latter category. 
Now realize, saying this feels sort of biased, as these three dudes happen to be close friends of mine. I've seen how damaging it can be when none of your friends have any criticism, constructive or otherwise, for your creative endeavors. But I'm here to tell you, I am in no way exaggerating when I say this is one of my favorite heavy releases to come out in recent years. 
It's full of monolithic riffs and really intricate time changes – some may even call it "math metal" (although I'm not one of those, because duh… that's dumb). Also, I don't know if this is a new thing, or if I just never noticed it before, but the dual vocals, courtesy Garrett Mess and Kasey Jansen, complement each other quite nicely. Perhaps it's because I've been using earplugs at shows a lot more lately, but these two boys can actually sing quite well. 
Production-wise, the band has never sounded better. This is in no small part due to the recording and production of Matt Hohmann, who has become quite the sought-after commodity by bands seeking decent recordings in the Dubuque area. However, this is not to negate the production value of Dredge's previous records either. Dredge have a habit of tapping pretty talented people to record their albums. Something about this one, though, puts it head and shoulders above the other two. Maybe it's because Matt has played in bands with all three of the guys before and knows how they should sound. 
Whatever the reason, it's an amazing record and I urge you to pick it up. You can buy a digital copy at dredge.bandcamp.com for whatever price you choose, or you can pick up a high quality 180-gram vinyl copy by ordering it from their Bandcamp page.
https://dredge.bandcamp.com
– Jon Eagle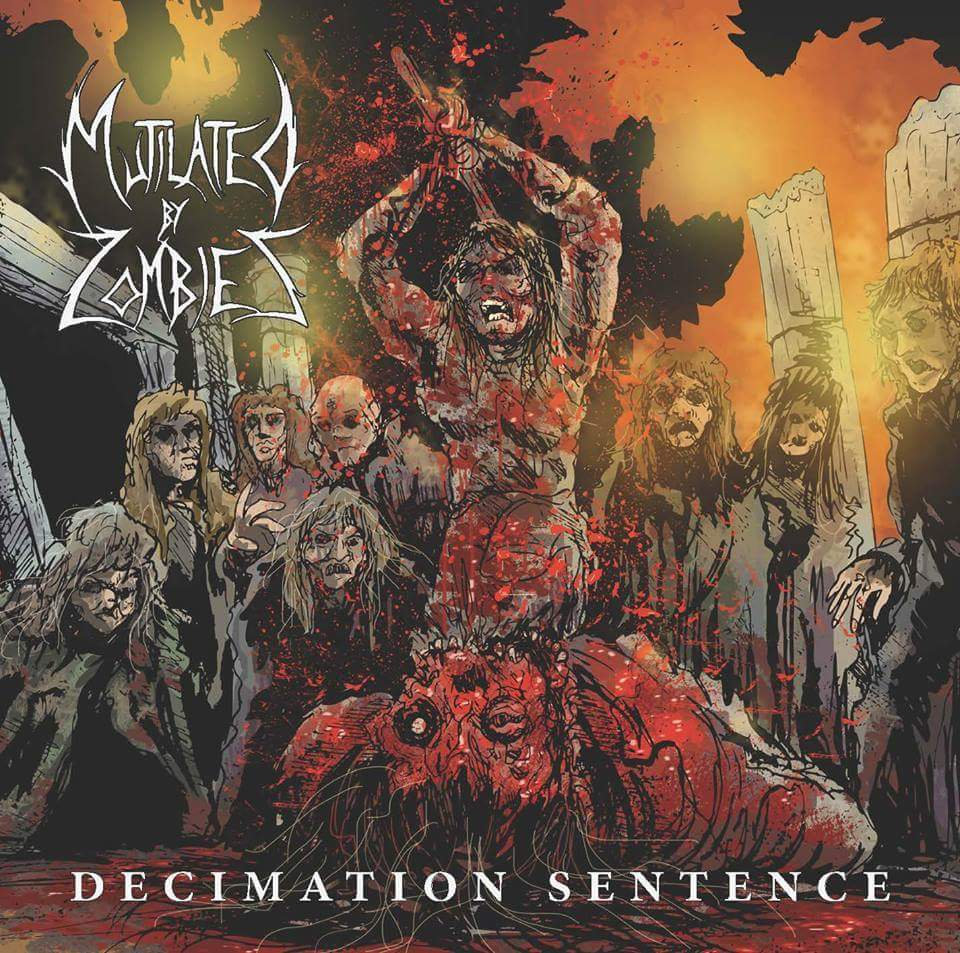 Mutilated By Zombies – Decimation Sentence 
I don't know what it's like to be the only death metal band in my town, but Mutilated By Zombies sure do. Operating in a vacuum, outside of any scene or expectations, Mutilated have spent the past several years developing their own reverent take on the genre.
Obviously indebted to the early '90s Tampa sound, Decimation Sentence updates the form, but only slightly – and this is not necessarily a negative. The riffs are often in the mold of Cannibal Corpse, complex lines that cycle through the song. The arrangements are consistently compelling and the transitions well-executed, and there is a noticeable lack of extended guitar solos – in lieu of showing off, the band's focus is on the song.
The guitar and bass are a bit thin in the mix in places, but the drums, played with great facility, are light years ahead of Morrisound production, and the vocal doubling and overdubs add a lot to the sound. I particularly dig the stereo panning on "Mock the Sun" – makes for a good headphone listen.
It's been cool to see and hear this band develop their skills over the years. Decimation Sentence is the end result of tons of practice and dedication to form, definitely an album the metalheads oughta pick up on.
https://mutilatedbyzombies2.bandcamp.com/album/decimation-sentence-2
– Bob Bucko
I Watched You Die – Untitled 
Dubuque's Alex Nowacki is primarily known for his performances as BOAR, his well-regarded harsh noise project. I Watched You Die is Alex's harsh noise wall alter ego. Admittedly, this subgenre within a subgenre is not for most ears, but if you're down for abandoning all precepts of what 'music' is, there is a lot to unpack here.
My main complaint with HNW is that it goes nowhere – which is often the point, but I'm a fan of dynamics and structure, I can't help it! Untitled, a single 27 minute-long piece, bridges the gap between static walls and compositional sensibilities. These are sounds for deep listening, for total immersion. Making it to the end offers the same satisfaction as running a race (or so I hear) – it's a marathon listen, created by a master of the form. Available through Alex's own Breaching Static label, this is advertised as the last I Watched You Die release, and it's a fitting nail in the coffin.
https://breachingstatic.bandcamp.com/album/i-watched-you-die
– Bob Bucko